Lance Bass Promotes Animal Adoption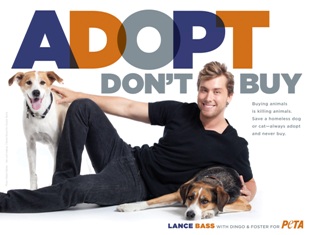 Every year, 6 to 8 million dogs and cats enter animal shelters—and half of them must be euthanized because there aren't enough homes for them. Lance Bass is working to combat the animal overpopulation crisis by starring with his rescued mutts, Dingo and Foster, in an ad for PETA. Lance's message is simple: Adopt, don't buy.
Every dog or cat purchased from a pet store or breeder takes a home away from an adoptable animal—meaning one more animal in a shelter will die. In addition to killing a shelter dog's chance at a new life, buying a dog supports puppy mills, where female dogs are treated as commodities and impregnated over and over again until they can no longer produce puppies. Many of these dogs are continuously housed in cramped, filthy cages while being denied bedding, exercise, and adequate veterinary care. The only solution to the dog and cat overpopulation crisis is adopting from animal shelters and spaying and neutering to prevent pregnancies.
Watch this exclusive behind-the-scenes video from Lance's PETA photo shoot and learn more about the animal overpopulation crisis and what you can do to help animals.
Respond