Tell Us When You First Fell in Love With Animals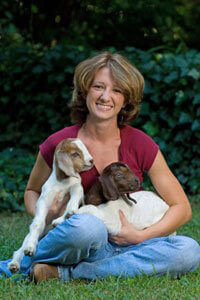 Did you rescue a stray dog and sense his or her gratitude? Did you see an undercover video or pick up a leaflet? Did a loved one tell you about a personal experience with an animal that moved you?
For many of us, turning into a tried and true animal advocate started with a single moment. It might have been something as personal as looking into your cat's eyes and having him or her reach out and touch your face with a paw, eating your first vegetarian meal and realizing that no animals suffered in any way for it, or grieving over the death of a beloved animal. Nearly all of us can recall a first inkling or even a single moment when we came to the realization that animals have just as much right to live a life free of pain and cruelty as we do. One could call it a breakthrough moment.
Read inspiring stories from other PETA supporters!
PETA would like to hear about yours.
Please complete the form below with your personal story about the instant that the fight to end the suffering of animals became important to you. We'll regularly publish some of the most moving stories on this site as a way to inspire others to take up the cause of animal rights in their own lives.
By telling others about what that important first moment meant to you and how it inspired you, you'll be helping PETA improve our work to save animals' lives. You'll also be providing encouragement to people who have yet to experience an epiphany of their own.
All fields in bold are mandatory.
By submitting this form, you are agreeing to our collection, storage, use, and disclosure of your personal info in accordance with our privacy policy as well as to receiving e-mails from us.
Related Posts
Respond