PETA's 2008 Top 10 Vegetarian-Friendly Ballparks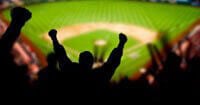 Top athletes—including slugger Prince Fielder, NFL Pro Bowler Tony Gonzalez, NBA star Raja Bell, MMA fighters Mac Danzig and Dale Hart, NBA legend John Salley, and Olympic great Carl Lewis—look to meatless meals to boost their health and stop cruelty to animals. And judging from the ever-growing array of delicious vegetarian meals available at major league parks, fans are following their lead. 
In addition to getting classic standbys like peanuts and popcorn, baseball fans are enjoying mouthwatering options like fresh-grilled veggie dogs, veggie burgers, and faux chicken as well as hearty burritos, vegetable wraps, and tasty regional foods. Not only are these choices full of flavor, they're also 100 percent cruelty- and cholesterol-free—talk about a triple play!
PETA is pleased to announce the list of the Top 10 Vegetarian-Friendly Ballparks for 2008. Click on each ballpark below to learn more about its vegetarian options. And the winners are …
Fortunately, these aren't the only ballparks that have stepped up to the plate when it comes to serving delicious vegetarian options. Here's a list of honorable mentions and a rundown of the meat-free items on their menus!
Honorable Mention
Miller Park (Milwaukee Brewers): veggie dogs, veggie wraps, baked potatoes, fried noodles with vegetables, PB&J, various salads
Minute Maid Park (Houston Astros): veggie dogs, fresh tossed salads, vegetarian wraps, baked potatoes, PB&J, fruit smoothies
Shea Stadium (New York Mets): veggie dogs, veggie chili, fresh fruit cups, wraps, salads
Dodger Stadium (Los Angeles Dodgers): veggie dogs, grilled veggie wraps, fruit salads, California chopped salad (spinach leaves, veggies, vinaigrette, nuts), hummus and veggies, whole fruit
Yankee Stadium (New York Yankees): grilled portobello marinated with balsamic vinaigrette, salad, sliced fresh fruit plate, grilled asparagus platter, pasta station with marinara, Oriental station with vegetable stir-fry, potatoes
Metrodome (Minnesota Twins): veggie burgers, fruit bowls, Blimpie salads, subs, fruit smoothies
McAfee Coliseum (Oakland Athletics): veggie dogs, assorted wraps, assorted salads, fresh fruit
Rangers Ballpark (Texas Rangers): vegetarian burritos, corn on the cob, fruit cups, salads, made-to-order pasta, full salad bar, fresh fruit
Dolphin Stadium (Florida Marlins): Boca burgers, fruit platter, veggie crudités, potato latkes
Wrigley Field (Chicago Cubs): Gardenburger, kids' meal (apple juice, baby carrots, apple slices, PB&J Uncrustables), Greek salad, organic trail mix
Get started on your vegetarian diet today by ordering a free copy of PETA's "Vegetarian Starter Kit." It's loaded with useful tips and information on going vegetarian, plus mouthwatering recipes. Order one now! 
Thanks to Johanna McCloy and Soy Happy for their hard work getting vegetarian items added to menus at ballparks nationwide!
Respond