Property Gifts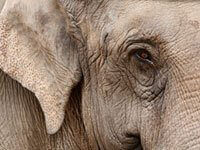 Donations of jewelry, artwork, real estate, and other forms of property are welcome ways for you to provide important support to PETA's lifesaving work for animals.
We're very proud that we have been able to make every dollar count for animals. This is as true with gifts of property as it is with outright donations by check, credit card, or automatic account withdrawal.
Many PETA members and supporters are finding that property gifts make good sense, as they can generally receive an income tax deduction for their gift at the time that it is transferred to us. In addition, if property has appreciated in value during the time that it has been owned, donors can save on the capital gains taxes that they would owe if they sold the property themselves.
The PETA Foundation's planned giving department is happy to answer any questions that you may have. Please complete the short form below and we every effort will be made to respond to you within two business days. If you'd like to donate your old fur to help animals, click here.
All fields in bold are mandatory.
By submitting this form, you are agreeing to our collection, storage, use, and disclosure of your personal info in accordance with our privacy policy as well as to receiving e-mails from us.
The above is intended as an introductory outline only and PETA does not provide financial, tax, or legal advice. As always, we suggest that you consult with your independent accountant, attorney, or other professional tax advisor before making a property gift in order to be sure that you receive the full tax deduction that you will be entitled to for donating the property to PETA.
Thank you for taking the time to consider all the many ways in which you can help us help animals!
In This Section
General PETA Information