Planned Giving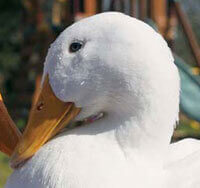 Planned gifts are a crucial source of future funding that enable PETA to plan and carry out the best programs to save animals. To remember animals in such an enduring way is quite possibly the most powerful gift that a person can make to stop animal suffering.
U.S. tax laws are structured to encourage charitable giving, and unlimited amounts can generally be left for charitable purposes free of estate and gift taxes. And you do not need a great deal of wealth to make a difference—every dollar means an extra chance for an animal in need!
Your estate plan represents your beliefs, your life, and a way to continue your compassion into the future. Please click on the "Giving Options" links for information on how you can make animals a part of your legacy.
If you have remembered PETA in your will, trust, life insurance policy, and/or other planned gift, thank you! We will work hard to carry forward your legacy of compassion for animals. We would also be honored to have you join our Augustus Club, which is dedicated to our members who have remembered animals and PETA in their estate plans.
We strongly suggest that you consult with your attorney or other independent professional adviser to ensure that your plans are in compliance with all applicable laws.
In This Section
General PETA Information