Charitable Gift Annuities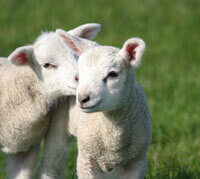 A charitable gift annuity is a simple agreement between you (the donor) and PETA. In exchange for your gift to PETA of $10,000 or more, PETA will pay you or another person or persons (no more than two for any one annuity) fixed payments each year for life. These fixed annual payments, called "annuity payments," are based on the age of the payment recipient (called "the annuitant") at the time of the gift.
There are many benefits to establishing a gift annuity:
First and foremost, you are making a wonderful gift to animals. After the annuity has ended, we will put your gift to good use strengthening our programs.
You or your designated annuitants will receive a fixed income stream for life.
You may receive a charitable tax deduction in the year that you make the gift and can carry over any unused portion of the deduction for an additional five years.
A portion of the annual annuity payments may be tax-free.
If your gift is of appreciated securities, you will save on capital gains taxes.
The annuity payments are backed by all of PETA's assets as well as by a gift-annuity reserve that is sufficient to meet all of PETA's future annuity obligations and that complies with the laws of those states in which PETA is registered.
Read more below about how to make a donation for animals and, in turn, receive a fixed annuity payment each year for life.
Learn More
In This Section
General PETA Information