Estate Planning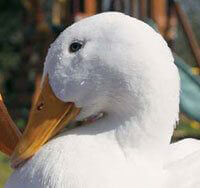 The financial support that members provide each year makes PETA's lifesaving work possible. But did you know that planned gifts provide nearly a third of PETA's funding? Without these legacies of compassion, PETA could not be the strong force for animals that it is today.
Here you can read about not only the types of planned gifts you are probably already familiar with, such as bequests from wills and trusts, but also other ways to use some very common assets – like retirement plans, financial accounts, and life insurance policies – that are often overlooked. These make great gifts that can help give animals a future; and as you'll see donating these assets is very easy!
A planned gift continues your compassion into the future. And you don't need a great deal of wealth to make a difference—every donation makes a difference for animals in need.
Learn More:

 
Please feel free to contact us if we can ever be of assistance, we would love to hear from you!
In This Section
General PETA Information