Win It Wednesday: PETA 30th Anniversary Sigg Water Bottle
Written by
September 29, 2010
|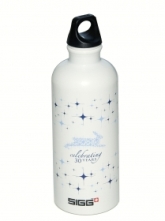 Not everyone was fortunate enough to attend PETA's 30th anniversary bash, but everyone can have a memento of the occasion. And if you're this week's contest winner, you can even have it for free. Just tell us below what you'd like to see PETA accomplish in the next 30 years. The person with the most forward-thinking—yet realistic—vision will win the 20-ounce eco-friendly commemorative water bottle.
The contest ends October 13, and the winner will be chosen on October 15. Be sure to read our privacy policy and terms and conditions, as you're agreeing to both by commenting.
If you need inspiration, check out PETA's achievements so far.
And don't get too upset if you don't win—you can still order your own water bottle from PETA's catalog.
Written by Heather Moore
Respond