'Win It' Wednesday: Michael Antonio's Ori Boots
Written by
December 22, 2010
|
When I first laid eyes on these beauties, I burst out singing Hot Chocolate's "Sexy Thing." The black vegan Ori boots from Michael Antonio are tall and sleek—and we're giving away a pair (available in sizes 6, 6.5, 7, 7.5, 8, 8.5, and 9) in this week's "Win It" Wednesday contest.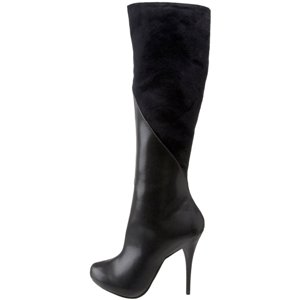 We know that vegans are slim, trim, energetic, and compassionate—but we're wondering how giving animal products the boot made you a "sexy thing." Maybe the lumps around your midsection melted away after abandoned the cow's milk mozzarella? Perhaps the crop of pimples that previously plagued your chin has disappeared? Or your significant other has commented that your "get up and go" never seems to quit?
Folks, this is no time to be shy: Our judges will pick one winner who best describes his or her sexy vegan transformation—but bear in mind that this is a family site, so no comments saucier than a PG rating, please.
The contest ends on January 5, 2011, and one winner will be chosen on January 7, 2011. Be sure to read our privacy policy and terms and conditions, as you're agreeing to both by commenting. No purchase necessary. Void where prohibited by law.
Good luck!
Written by Karin Bennett
Respond