'Win It' Wednesday: Humane Mousetrap
Written by
October 20, 2010
|
With the approach of cooler fall weather, some of you might be hearing the pitter-patter of little feet in your attic. That's because mice and other rodents often start moving indoors this time of year to escape the cold. If you don't mind sharing your home with these furry little refugees, give yourself a pitter-pat on the back and don't read any further: This week's "Win It" Wednesday prize—one of PETA's perennially popular humane mousetraps—will be of no interest to you.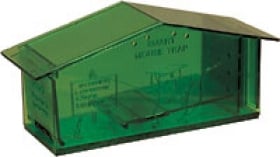 For the rest of you, here are three easy steps you can take to humanely rodent-proof your home:
Seal any cracks and holes in walls and foundations
Keep food and garbage in sealed, chew-proof containers
Catch any remaining rodents with a humane trap and release them outdoors.
To score one of the aforementioned humane traps, post a comment below telling us about the creative ways you have humanely resolved conflicts with wildlife. Whoever leaves the response that most makes us want to smack ourselves on the forehead and say, "D'oh, why didn't I think of that?" will walk away a winner.
The contest ends November 3, and the winner will be chosen on Novemeber 5. Be sure to read our privacy policy and terms and conditions, as you're agreeing to both by commenting.
If you don't win, never fear: You can still order one of our lean, green, mouse-nabbing machines at PETACatalog.com.
Written by Alisa Mullins
Respond