Win 'The PETA Practical Guide to Animal Rights'
Written by
December 9, 2011
|
This Saturday is International Animal Rights Day, and we're celebrating by giving away a copy of The PETA Practical Guide to Animal Rights, a page-turner that's jam-packed with ways that anyone, anywhere, can make a huge difference for animals.
To enter for a chance to win the book, post a comment telling us what you'll be doing for animals this Saturday. Here are some suggestions to help get your creative juices flowing: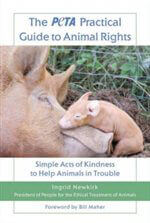 A winner will be chosen at random from the animal-friendly comments that are submitted. The contest will end on December 16, and we'll contact the winner by December 30. Make sure that you read our privacy policy and terms and conditions, as you're agreeing to both by commenting.
Related Posts
Respond
Comments
If your comment doesn't appear right away, please be patient as it may take some time to publish or may require moderation.
By submitting this form, you are agreeing to our collection, storage, use, and disclosure of your personal info in accordance with our privacy policy as well as to receiving e-mails from us.