Victory! Retirement Community Removes Bird Box
Written by December 11, 2013
|
Finches who have been locked inside a barren glass box at a retirement community called Broadmead in Cockeysville, Maryland, have finally been removed.
For more than a dozen years, a concerned resident had been urging Broadmead's leadership to remove the bird box, but her pleas were ignored—until she contacted PETA last year. A flood of concerned people added their voices to the call, and just before Thanksgiving, Broadmead removed the box.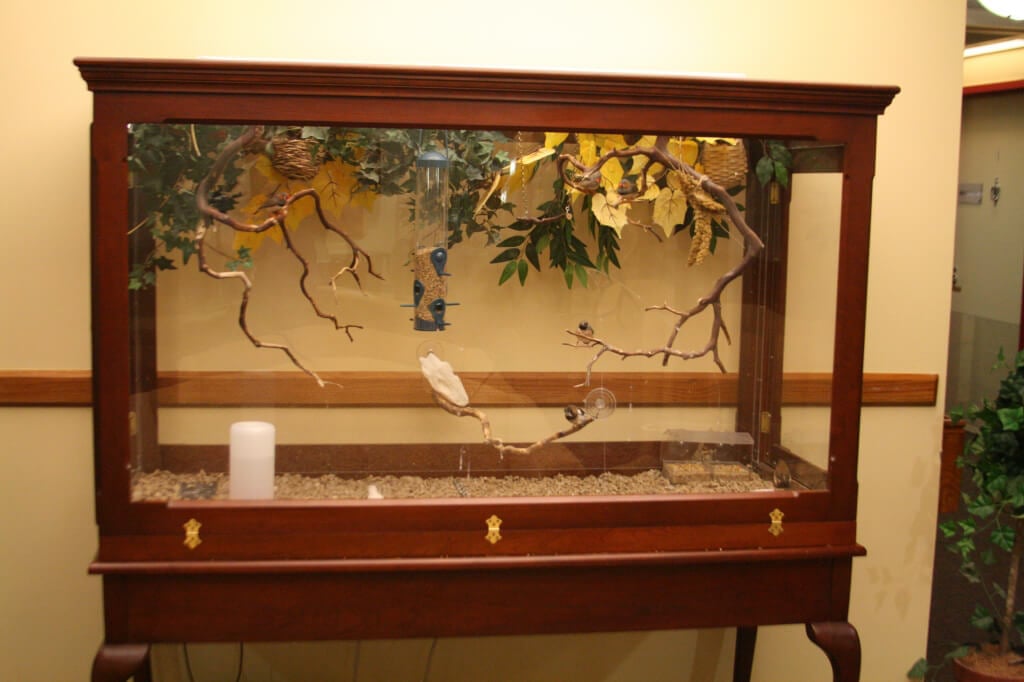 The box in which the birds were locked had no water to bathe in, stagnant air, and barely a few feet for them to move—let alone adequate room to fly or exhibit other natural behavior. Because Robin's Nest Aviaries, Inc.—the company that owned the birds and the box—reportedly tended to the enclosure at Broadmead only twice a month, the birds regularly went without adequately fresh feed and feces were allowed to accumulate in their open food container. One avian expert who reviewed photographs of the bird box at Broadmead called it "terrible" for these animals.
Broadmead is replacing its inhumane bird box with a rooftop sanctuary, complete with plants and birdbaths that will allow residents to enjoy watching wild, free-flying birds in a natural setting. Broadmead residents have reason to sing, but birds are still imprisoned in similar boxes at other facilities. PETA urges all retirement communities to follow Broadmead's example and stop cruelly confining birds in depressing, unnatural conditions such as in a Robin's Nest box, which a Broadmead representative admitted was "outdated."
Related Posts
Respond
Comments
If your comment doesn't appear right away, please be patient as it may take some time to publish or may require moderation.
By submitting this form, you are agreeing to our collection, storage, use, and disclosure of your personal info in accordance with our privacy policy as well as to receiving e-mails from us.