Victory! 200 Pups Won't Be Given as Prizes
Written by
January 7, 2011
|
Great news! After PETA got word that Colombian mobile phone company Comcel planned to raffle off 200 puppies as part of a promotion, we posted an action alert on our website, and you responded in droves. Thanks to you, Comcel and its parent company, América Móvil, have agreed to give debit cards as prizes instead.
Needless to say, randomly distributing puppies is a spectacularly bad idea. Animals who are given as prizes or gifts are often abused or discarded when the novelty wears off. The lucky ones wind up in shelters (as opposed to being abandoned on the streets), where they face euthanasia because of a lack of good homes.
Which reminds me—if you are ready to open your heart and home to an animal companion, always, always, always adopt—never buy. Need more persuasion? Who could possibly resist the importuning of Twilight hunk Kellan Lutz?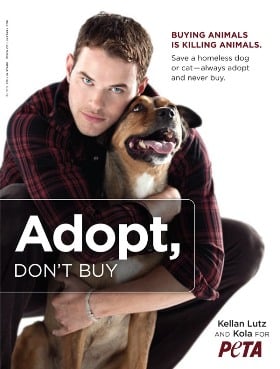 Written by Michelle Sherrow
Related Posts
Respond
Comments
If your comment doesn't appear right away, please be patient as it may take some time to publish or may require moderation.
By submitting this form, you are agreeing to our collection, storage, use, and disclosure of your personal info in accordance with our privacy policy as well as to receiving e-mails from us.