'Star' Staffers Take on Hollywood McDonald's
Written by
October 10, 2011
|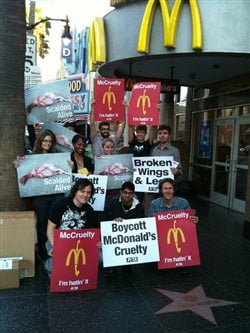 It was just another evening in Hollywood—the sun was sinking in a gold-and-orange blaze, throngs of tourists were posing for photos on the Walk of Fame, and some of my PETA colleagues and I gathered to spread the message that McDonald's suppliers mutilate conscious chickens.
Although a couple of teenagers who hovered around Ozzy Osbourne's star assured me that they could beat up anyone who gave us any trouble, most of the more than 300 passersby who took our leaflets were sympathetic. In fact, even the bus passengers wanted our leaflets—a convenient bus stop provided the opportunity for a certain enthusiastic (and tall) staffer to hand leaflets through the bus windows. 
You can help by telling McDonald's to require its suppliers to use a less cruel chicken-slaughter method, lest the stretch of sidewalk in front of this Hollywood location give new meaning to "Walk of Shame."
Written by Heather Faraid Drennan
Related Posts
Respond
Comments
If your comment doesn't appear right away, please be patient as it may take some time to publish or may require moderation.
By submitting this form, you are agreeing to our collection, storage, use, and disclosure of your personal info in accordance with our privacy policy as well as to receiving e-mails from us.