Showing Skin in Spain
Written by
December 7, 2010
|
As the song goes, I've never been to Spain (but I've been to Oklahoma). They say the ladies are insane there, but folks visiting Madrid's Plaza Mayor on Monday's Constitution Day holiday were still surprised—and delighted—to encounter two PETA lovelies wearing little more than body paint on the latest stop of the now-international "Animal Prints, Not Animal Skins" tour. They were eventually joined by "Charlie Chaplin" and a group of superheroes chanting, "No pieles animales!" ("No animal skins!").
But the real superheroes are the folks who opt out of cruelty by refusing to buy clothing and accessories made from the skins and fur of animals. As one woman in the crowd remarked, pointing toward the demonstrators' signs, it was "muy, muy bueno!"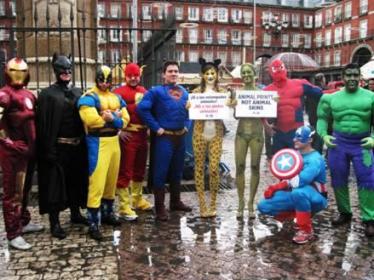 Written by Jeff Mackey
Related Posts
Respond
Comments
If your comment doesn't appear right away, please be patient as it may take some time to publish or may require moderation.
By submitting this form, you are agreeing to our collection, storage, use, and disclosure of your personal info in accordance with our privacy policy as well as to receiving e-mails from us.