Russell Brand's Beef with So-Called "Humane Meat"
|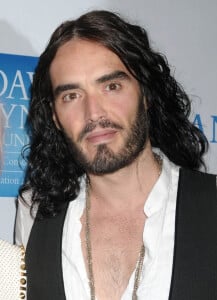 © StarMaxInc.com
As people have become more aware of how animals who are killed for food suffer, there has been a lot of talk about so-called "humane meat." When one of Russell Brand's fans wrote to him claiming to support "humane meat," he responded on his daily YouTube show, The Trews.
The fan wrote, "I want to eat meat, but I'd like to try and eat free-range meat, and I'd like to have animals that have been stunned before slaughter so as to ease its passing. What is it that veggies can't grasp about that concept?"
Russell retorted, "Hypocrisy?" And he added, "Stunned?! I bet being stunned isn't very nice, either." He said what all animal advocates know to be true: "If you've got any concern at all about animal welfare, you've got to not eat meat."
In other celebrity news:
To keep up with what all your favorite stars are doing for animals, follow @PETA on Twitter.
Respond