UPDATE: Ringling Elephants Reportedly Locked Up for More Than 30 Hours Straight
Written by August 14, 2014
|
Update: PETA has filed another complaint with the U.S. Department of Agriculture (USDA) after learning that, in preparation for Ringling Bros.' San Diego run, elephants traveling with the circus were apparently confined (and almost certainly chained) in boxcars from the time when they were loaded in Anaheim to when they were unloaded in San Diego—at least 32 and a half hours later. If true, this would mean that the elephants couldn't all lie down at once, couldn't turn around, and wouldn't have had windows or fresh air. We're asking the USDA to investigate this prolonged and stressful confinement and take appropriate enforcement action.
Originally posted on August 11, 2014:
PETA has received a photograph and video footage of elephants traveling with the Ringling Bros. and Barnum & Bailey Circus as they were being walked to the arena in Anaheim, California, on July 31. The photograph, taken by a passerby, shows an elephant—likely Bonnie—with three long abrasions on her side. Ringling appears to have tried to cover up the wounds with a gray powder called "Wonder Dust," which the circus uses to conceal wounds inflicted with bullhooks (weapons that resemble fireplace pokers with a sharp metal hook on one end).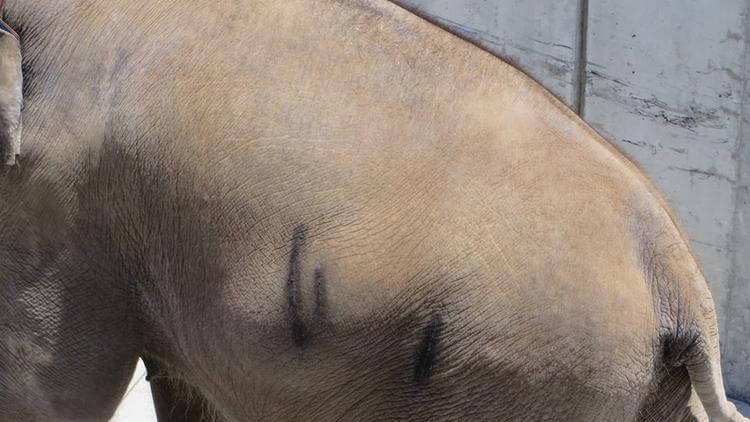 PETA sent an urgent request to the U.S. Department of Agriculture calling on it to conduct an immediate inspection of the elephants with Ringling's Blue Unit, determine the cause of the abrasions, and ensure that the elephant is receiving proper veterinary care.
Ringling's long history of cruelty includes both abusing elephants with bullhooks and transporting elephants in unsafe transport enclosures, either of which may have caused this elephant's injuries.
What You Can Do
Bullhooks are banned in Los Angeles and other municipalities. Contact PETA for materials on how to get a ban imposed in your area.
Related Posts
Respond
Comments
If your comment doesn't appear right away, please be patient as it may take some time to publish or may require moderation.
By submitting this form, you are agreeing to our collection, storage, use, and disclosure of your personal info in accordance with our privacy policy as well as to receiving e-mails from us.