POLL: Should Heart Institute Display Sexy Ad?
Written by
October 14, 2010
|
One reason I'm glad to live in Houston is that the Texas Medical Center is here. The center includes some of the country's leading health care facilities, such as the Texas Heart Institute (THI)—which was recently named one of America's best centers for heart care for the 20th consecutive year. So THI seems like the perfect place to display our sizzling "Bypass Heart Disease" ad, which features a sexy nurse touting the cardiovascular benefits of a vegan diet.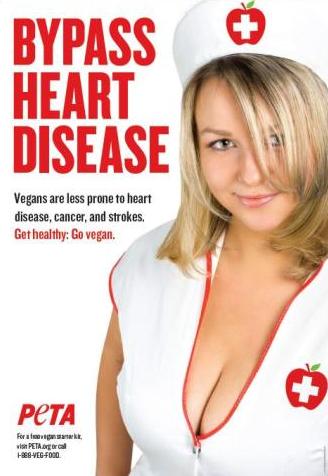 We've sent our request to the institute's president, but now we want our readers to weigh in. Please vote in the following poll. And as always, feel free to share your thoughts in the comments section.
Should THI use PETA's sexy nurse poster to let people know that they can improve their heart health by removing fatty and cholesterol-laden meat, milk, and eggscustomer surveys
Written by Jeff Mackey
Respond