Poll: Is Al Gore a Hypocrite?
|
After Al Gore chastised President Obama in a Rolling Stone essay for not being tough enough in combating climate change, PETA, in turn, took the former veep to task for not being tough enough on his own high-carbon diet.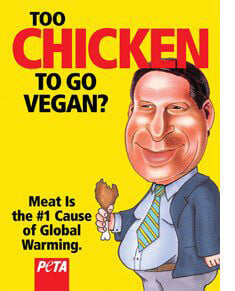 Even though scientific studies show that raising animals for food is one of the leading contributors to greenhouse-gas emissions, Gore continues to chow down on chops. In fact, the official handbook of the Live Earth concerts—which Gore helped organize—acknowledges that abstaining from meat is the "the single most effective thing" you can do to reduce your impact on climate change.
"As you know, going vegan will help reduce animal suffering, your waistline, and your impact on the planet, so it's a win-win situation for everyone," wrote PETA Executive Vice President Tracy Reiman in a letter to Gore. "After all, it wouldn't do to challenge the president's 'climate of denial' while ignoring your own book's excellent advice."
Is it hypocritical for Al Gore to chastise others while ignoring the inconvenient T-bone on his dinner plate?customer surveys
Related Posts
Respond
Comments
If your comment doesn't appear right away, please be patient as it may take some time to publish or may require moderation.
By submitting this form, you are agreeing to our collection, storage, use, and disclosure of your personal info in accordance with our privacy policy as well as to receiving e-mails from us.