A Pig Walks Into a Hot-Dog–Eating Contest …
|
… and becomes the star attraction. PETA's pig was present for this year's Nathan's International Hot Dog Eating Contest in Brooklyn on the Fourth of July, and the pig's able assistants handed out hundreds of "Think Before You Eat" leaflets in order to educate people about the abuse—such as castration, tooth-clipping, and tail-docking without any anesthetics—suffered by pigs and other animals killed for hot dogs.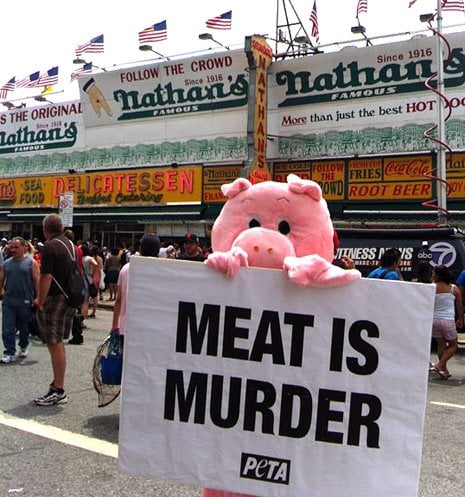 You can be a champ for pigs by forgoing frankfurters and choosing faux footlongs instead.

Written by Michelle Sherrow
Related Posts
Respond
Comments
If your comment doesn't appear right away, please be patient as it may take some time to publish or may require moderation.
By submitting this form, you are agreeing to our collection, storage, use, and disclosure of your personal info in accordance with our privacy policy as well as to receiving e-mails from us.