PETA's Celebrity Supporters: 'We're Hatin' It!'
Written by
October 5, 2010
|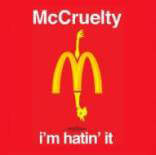 Dozens of celebrities, including Oscar-winner Anjelica Huston, Rock and Roll Hall of Famer Iggy Pop, and comedic improv genius Fred Willard—all of whom were in attendance at PETA's 30th Anniversary Gala—signed our petition calling on McDonald's to reduce cruelty to chickens. Check it out.
All these celebrities join countless caring folks who've taken action against the atrocious treatment of birds on the factory farms that supply McCruelty. Chickens deserve a break—not broken wings or death by scalding. So they need you to be a shining star for them too.
Written by Karin Bennett
Related Posts
Respond
Comments
If your comment doesn't appear right away, please be patient as it may take some time to publish or may require moderation.
By submitting this form, you are agreeing to our collection, storage, use, and disclosure of your personal info in accordance with our privacy policy as well as to receiving e-mails from us.