PETA Is in Jeopardy—and That's a Good Thing
|
Do you know which group organized America's first World Day for Animals in Laboratories protest in 1980? An alert contestant on Jeopardy did. He correctly answered, "What is PETA?" and earned himself $1,000.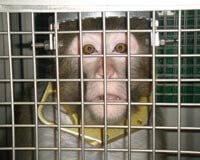 In other Hollywood news:
Travel Channel host Andrew Zimmern earned himself kudos in a recent encore presentation of a Bizarre Foods episode,in which he traveled to Bangkok and taste-tested mock meats at a popular vegetarian restaurant called SPA Foods. The notoriously carnivorous foodie was impressed by the "bacon"-wrapped "sausage" and even more so by the shredded "pork" and "beef," which he called "addictively spicy." He even went so far as to dub the roast "duck" in cherry tomato curry sauce "genius."
Speaking of travel, if you're going to be in St. Catharines, Ontario, next Sunday, drop by the third annual Niagara VegFest. You might get a chance to meet Buffalo Bills wide receiver and Super Bowl vet Ramses Barden, who will be there to talk up the benefits of a vegan diet. A vegetarian for more than a year and a vegan for five months, Barden says he's been "noticing the effects—noticing my energy level, noticing my alertness, noticing certain senses even becoming sharper …. I've had tremendous physical benefits, mental benefits, health, emotional—all those things have just kind of grown."
Something else that's growing? Opposition to SeaWorld's cruelty to orcas, if the Twitterverse is any way to judge. Celebrities took to Twitter this week with criticism of the abusement park and praise of Jason Biggs' hilarious spoof SeaWorld ad:
To keep up with what your favorite celebs are doing for animals, follow @PETA on Twitter.
Respond