PETA Chalks California Pizza Kitchen Sidewalk With Anti-Dehorning Message
Written by July 3, 2013
|
Move over, Michelangelo. When PETA members heard that a San Diego jury acquitted a man who had been prosecuted for chalking a sidewalk, they figured they'd try their hand at some protest art.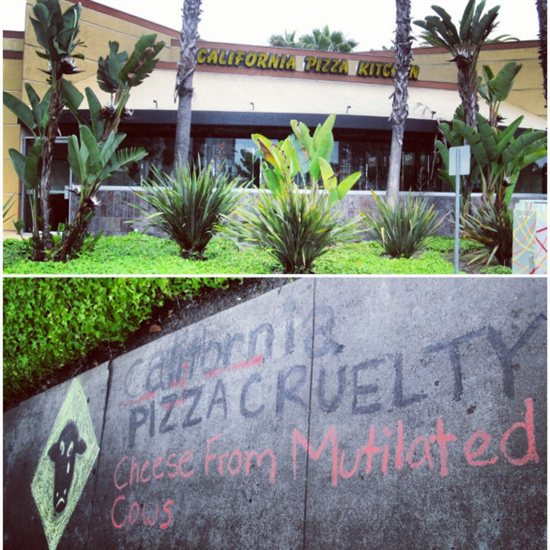 The chalk-wielding gang descended on California Pizza Kitchen in La Jolla, California, and "decorated" the sidewalk with a colorful message calling on the company to require its cheese suppliers to phase out dehorning, a painful process in which calves' sensitive horn tissue is burned off with a hot iron or caustic paste. They say an image is worth a thousand words, and California Pizza Kitchen customers got the message loud and clear.
You can help: Please write to California Pizza Kitchen and urge the company to require its cheese suppliers to end the practice of dehorning.

Related Posts
Respond
Comments
If your comment doesn't appear right away, please be patient as it may take some time to publish or may require moderation.
By submitting this form, you are agreeing to our collection, storage, use, and disclosure of your personal info in accordance with our privacy policy as well as to receiving e-mails from us.