Town Throws a Party for Cruel Factory Farm
Written by
October 12, 2010
|
This month marks the 15th anniversary of Seaboard Foods in the Guymon, Oklahoma, area. Seaboard operates a pig factory farm where a PETA investigator documented that pigs were routinely kicked, beaten, and slammed against concrete floors. As a result of PETA's investigation, a Seaboard manager pleaded guilty to three counts of felony cruelty to animals. But instead of running the bums out of town, Guymon is—wait for it—throwing Seaboard Foods a big birthday bash. Cake, candles, and … cruelty?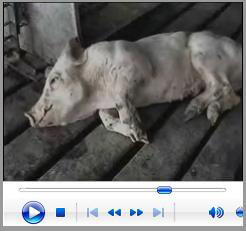 Undercover Footage from Seaboard Farms, Narrated by Rue McClanahan
PETA has a better idea. Instead of honoring pig abusers, Guymon should throw a party for the pigs. We have written to the mayor and suggested that he declare Saturday, October 23, "Pig Empathy Day"—and we've offered to send a contingent of Lettuce Ladies armed with vegan barbecue riblets and faux ham sandwiches to help get the party started. Sounds like hog heaven …
Written by Alisa Mullins
Related Posts
Respond
Comments
If your comment doesn't appear right away, please be patient as it may take some time to publish or may require moderation.
By submitting this form, you are agreeing to our collection, storage, use, and disclosure of your personal info in accordance with our privacy policy as well as to receiving e-mails from us.