'Pet' Is a Four-Letter Word
|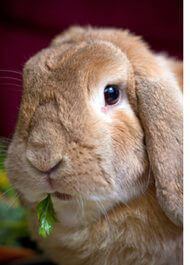 I prefer 'Your Highness'
Pet names: good. The designation "pet": bad. The Journal of Animal Ethics has released a report from three top universities that confirms what PETA has been saying for three decades: The way people talk about animals directly affects how we think about and treat them. Researchers determined that words like "critter," "beast," and "pet" are derogatory and suggests using the much more respectful "companion."
The journal goes on to recommend dropping "owner" from our vernacular and instead calling ourselves "human carers" (we like "guardians" too).
You may have noticed that we are always careful about our language usage here at the PETA Files, and, just for the record, we believe the term "sugar lumpkin" is still a-OK.

Written by Michelle Sherrow
Related Posts
Respond
Comments
If your comment doesn't appear right away, please be patient as it may take some time to publish or may require moderation.
By submitting this form, you are agreeing to our collection, storage, use, and disclosure of your personal info in accordance with our privacy policy as well as to receiving e-mails from us.