Get Out and See 'Out of the Furnace'
Written by December 6, 2013
|
Fans are in for an animal-friendly feast for the eyes when Out of the Furnace comes out today. The all-star cast includes vegan PETA supporters Casey Affleck and Woody Harrelson, our vegetarian buddy Forest Whitaker, and Zoe Saldaña, who always adopts and never buys her animals.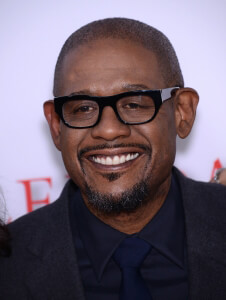 ©StarMaxInc.com
In other celebrity news:
After South Dakota cattle farmers raised a stink about the plan to have vegetarian PETA supporter Joan Jett perform on the state's float in the Macy's Thanksgiving Day Parade, Macy's moved the rock god to another float and gave the South Dakota gig to The Summer Set. This time, the cattle ranchers had no complaints, but had they done some research, they would have realized that The Summer Set is actually composed of five PETA supporters, two of whom are vegetarian. With a nice little smirk, we're adding that one to the "win" column.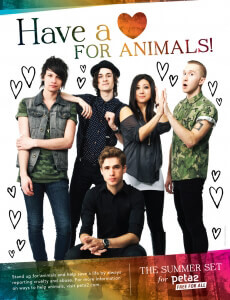 Macy's may have let SeaWorld proceed with its float in the Thanksgiving Day parade, but celebrities aren't taking that one sitting down. They're making sure that SeaWorld and Blackfish remain hot topics on Twitter:
MUCH respect to @barenakedladies for their decision to not play at sea world. you gotta do what your heart tells you.

— Rob Thomas (@ThisIsRobThomas) November 30, 2013
.@SeaWorld Are you excited for Blackfish Friday? The Puget Sound is having huge sale on baby orcas! FREE if you have no moral compass!

— Jason Biggs (@JasonBiggs) November 26, 2013
Love animals and stay away from sea world http://t.co/268jrBEFEn

— Joanna Krupa (@joannakrupa) December 3, 2013
Just watched #Blackfish….. Went to my kitchen and saw my goldfish! Now I feel guilty. Free the… http://t.co/6g1quRhSpf

— Jonathan Knight (@JonathanRKnight) December 3, 2013
During this holiday season, please boycott all shows where they use trained dolphins and whales. #saveourfriends #blackfish #taiji #thecove

— Carrie Ann Inaba (@carrieanninaba) December 1, 2013
I don't understand how Macy's could not be affected by Blackfish. How could anyone not be affected.

— ireland (@IrelandBBaldwin) November 28, 2013
people are offended by harmless drag queens in a parade but not a sea world float? dear america, you need to change your meds. #Blackfish

— moby (@thelittleidiot) November 28, 2013
Jessica Chastain graces the December cover of Vogue, and in her accompanying interview, the talented actor got in not only a mention of her vegan diet but also an endearing recollection of how she let a family of mice live in her cutlery drawer because she was too soft-hearted to kick them out.
Pastor Rick Warren, who wrote the best-selling book The Purpose Driven Life, is releasing his new book, The Daniel Plan: 40 Days to a Healthier Life, in which he examines what the good book says about health and fitness. And what it says may surprise some people. As Pastor Warren describes it, "If it grows on a plant, it's healthy. If it's made in a plant, don't eat it." He must be onto something. Besides proving successful for the biblical figure Daniel and his friends, the plant-based diet helped Warren's congregation drop a total of 250,000 pounds.
Jay Z and Beyoncé will soon be feeling the power of plants. They were spotted chowing down at Los Angeles' vegan hotspot, Café Gratitude, while Ariana Grande and Anne Hathaway both dined nearby.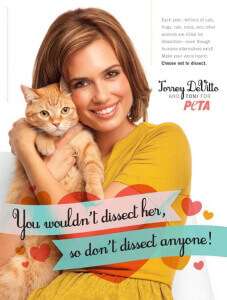 Torrey DeVitto has found love. The Pretty Little Liars star adopted her adorable new Chihuahua, Beau, from a shelter. PETA sent Beau a "welcome home" gift of doggie toys and treats.
In the midst of the holiday season, we're grateful for these and many other stars who won't be turning living animals into table centerpieces:
Happy #vegetarian #Thanksgiving! Carve the lentil and keep your conscience #CrueltyFree! @peta @CrueltyFreeIntl pic.twitter.com/vO9zq5sWnC

— Ashley Bell (@OfficialAshBell) November 28, 2013
"Black Friday" day of mourning for turkeys, if any are left to mourn. Beautiful birds, especially male plumage. Fortunately, not prescient.

— Joyce Carol Oates (@JoyceCarolOates) November 27, 2013
Happy #Thanksgiving! Let us know if you'll be eating vegetarian today. Get the @peta t-shirt: http://t.co/Qf4UXhqNRI pic.twitter.com/U6PsejC90B

— Paul McCartney (@PaulMcCartney) November 28, 2013
A lot of cooking going on at my place today. And I already see scared turkey's lining up outside my door looking for refuge. #NoKillZone

— Austin Healy Aries (@AustinAries) November 27, 2013
To keep up with what all your favorite stars are doing for animals, follow @PETA on Twitter.
Related Posts
Respond
Comments
If your comment doesn't appear right away, please be patient as it may take some time to publish or may require moderation.
By submitting this form, you are agreeing to our collection, storage, use, and disclosure of your personal info in accordance with our privacy policy as well as to receiving e-mails from us.