PETA Pal Morrissey Announces Tour Dates
|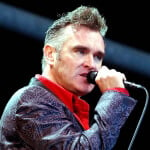 ©StarMaxInc.com
Music icon and pro-animal agitator Morrissey has just announced tour dates in the U.S. starting in May, and we're sure he'd love some PETA representation in the audience. This is Morrissey's first tour since releasing his bestselling memoir, in which the longtime vegetarian writes, "Nobody can possibly be so hungry that they need to take a life in order to feel satisfied—they don't after all . . . so why take the life of an animal? Both are conscious beings with the same determination to survive. It is habit, and laziness and nothing else."
Moz has been an animal rights supporter ever since he dropped his Meat Is Murder album almost a quarter-century ago, so it shouldn't come as a surprise that he's gotten his bandmates to wear "SeaWorld Sucks" and "Ringling Beats Animals" shirts at past concerts. He's also worked with PETA on numerous campaigns, such as when he posed with a cat on his head to ask his fans to spay and neuter their companion animals and when he graced PETA's postage-stamp series featuring iconic vegetarians.
Check out Morrissey's tour dates and buy tickets here—quickly, before they sell out!
Related Posts
Respond
Comments
If your comment doesn't appear right away, please be patient as it may take some time to publish or may require moderation.
By submitting this form, you are agreeing to our collection, storage, use, and disclosure of your personal info in accordance with our privacy policy as well as to receiving e-mails from us.