A Little Bird Told Us … Hollywood Gossip
Written by
September 9, 2011
|
"Skinnygirl" Bethenny Frankel might be calling us for tips—she is raising baby Bryn on a healthy vegetarian diet. 
Award-winning singer Leona Lewis is also a champ for seals. The longtime vegetarian and fur foe is calling for an end to the seal slaughter in Namibia. But one place that fur was welcome—and, in fact, required—was at a dog fashion show hosted by Kevin Nealon, which raised money for spay-and-neuter clinics.
Many stars have been letting their fingers do the talking, sending pro-animal messages to their millions of Twitter followers: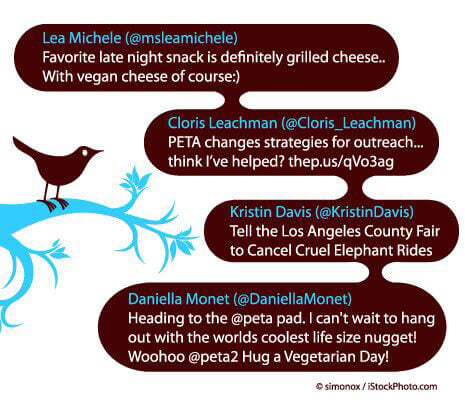 American Idol veteran Jordin Sparks and her four dogs would probably have enjoyed the show—Sparks makes sure that they get plenty of quality time together. The dogs travel right alongside her on her tour bus, and (get your "Awww!" ready) she says that she strives to be a better person because of them.
Is Elle Fanning thinking about becoming an animal parent too? The Super 8 star was spotted in Santa Monica looking at cats who were up for adoption.
Written by Michelle Sherrow
Respond