Lettuce Meets Weed at HempCon
Written by
August 29, 2011
|
At this weekend's HempCon medical marijuana convention in L.A., PETA's Lettuce Ladies toke took the opportunity to urge attendees to break their addiction—to meat.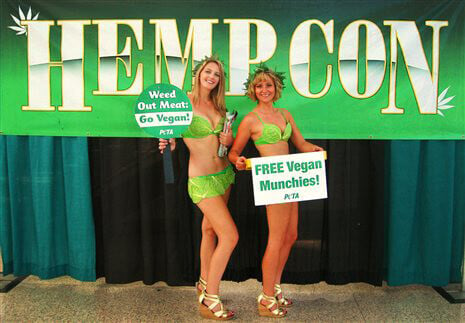 The gals in green were such a huge hit that they quickly gave away their entire stock of vegan munchies—chocolate-chip cookies and faux-beef jerky—and vegetarian/vegan starter kits.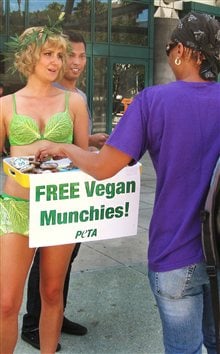 Compared to meat-eaters, vegetarians have a 40 percent lower risk of cancer, the disease that medical marijuana is often prescribed for. So eating plants now may help prevent the need to smoke them down the road.
Ready to quit leafing your health to chance? Get your vegetarian/vegan starter kit today and start enjoying the natural high you get from protecting animals, your health, and the planet. 
Written by Michelle Sherrow
Related Posts
Respond
Comments
If your comment doesn't appear right away, please be patient as it may take some time to publish or may require moderation.
By submitting this form, you are agreeing to our collection, storage, use, and disclosure of your personal info in accordance with our privacy policy as well as to receiving e-mails from us.