Jillian Michaels Offers to Hold Off on PETA Ad if Speaker Quinn Shows Horse Sense
Written by
September 9, 2013
|
No sooner had PETA announced plans to plaster New York City with posters starring Jillian Michaels urging City Council Speaker Christine Quinn to stop blocking a proposal to replace cruel horse-drawn carriages than Michaels was contacted by a Quinn supporter urging her to cancel the campaign. Instead, Michaels sat down and drafted a polite letter to Quinn in which she proposed a deal:
In the interest of progress and diplomacy, I'd like to suggest we meet half way. You may not support the bill calling for a mandatory phase out of horse-drawn carriages, but if you agree to support a one-year pilot program to test the viability of replacing the horses with green classic cars, PETA and I will suspend our new ad campaign.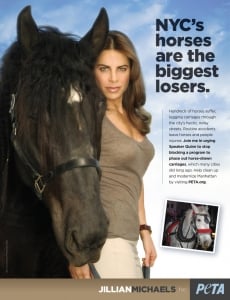 As Michaels points out in her letter, the vintage car proposal quells any concerns that Quinn may have about lost jobs, since it calls for the licenses to go "first to the former carriage drivers. Not one job would be lost, and in fact, many might be created by this safer, more sanitary tourist attraction."
What You Can Do
Please join Jillian Michaels and the thousands of New Yorkers who have called for an end to horse-drawn carriages in New York City. Urge City Council Speaker Christine Quinn to support the pilot program, which, as Michaels points in her letter, "would not cost the city one dollar and has bipartisan, majority support on the city council."
Related Posts
Respond
Comments
If your comment doesn't appear right away, please be patient as it may take some time to publish or may require moderation.
By submitting this form, you are agreeing to our collection, storage, use, and disclosure of your personal info in accordance with our privacy policy as well as to receiving e-mails from us.