Why Are We Showering JLo With Gifts?
|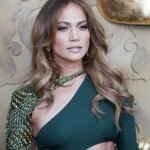 ©starmaxinc.com
Jay Z and Beyoncé made headlines last winter when they did it. And now Jennifer Lopez is embracing vegan eating as a way to help her stay fit.
To celebrate all the lives she'll be saving, we rushed JLo a gift basket filled with vegan cookbooks (including Viva Vegan! and Chloe's Vegan Desserts) and our saucy "Kale, Yeah, I'm Vegan" T-shirt. And since she mentioned that the only thing she misses is butter, we already tweeted to her about how delicious dairy-free Earth Balance buttery spread is.
It seems like JLo's kind new way of eating will stick: She told New York's Z100, "You do feel better. I do recommend the vegan diet because you wake up and feel great!"
Order your free vegan starter kit today.
PETA is a participant in the Amazon Services LLC Associates Program, an affiliate advertising program designed to provide websites with a means to earn advertising fees by advertising and linking to Amazon.com.

Related Posts
Respond
Comments
If your comment doesn't appear right away, please be patient as it may take some time to publish or may require moderation.
By submitting this form, you are agreeing to our collection, storage, use, and disclosure of your personal info in accordance with our privacy policy as well as to receiving e-mails from us.