PETA Beauties Shower Up a Storm
Written by August 8, 2011
|
Apparently Mother Nature loves a good PETA demonstration. When our bathing beauties came to Memphis to show residents how much water they could conserve by going vegan, the ladies got some unexpected help from the skies.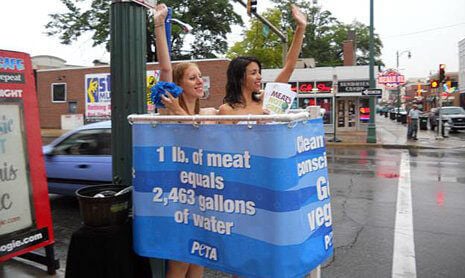 Reporters and pedestrians braved the thunderstorm to take pictures and to learn how they could save more water by giving up 1 pound of meat than they could by not showering for six months. Want to conserve thousands of gallons of water a year while still sudsing up? Take the vegan plunge.
 
Written by Michelle Sherrow
Related Posts
Respond
Comments
If your comment doesn't appear right away, please be patient as it may take some time to publish or may require moderation.
By submitting this form, you are agreeing to our collection, storage, use, and disclosure of your personal info in accordance with our privacy policy as well as to receiving e-mails from us.