Freedom Float 'Flies'
Written by
September 9, 2011
|
After hearing from PETA and concerned area residents, Glendale, California, Mayor Laura Friedman has proposed changing the city's float entry for the 2012 Tournament of Roses Parade from a "circus elephant"—which represents pain and suffering—to one of an elephant in a natural setting.
Check out the draft design idea that PETA submitted to the mayor and city council for an "Elephant Freedom" float: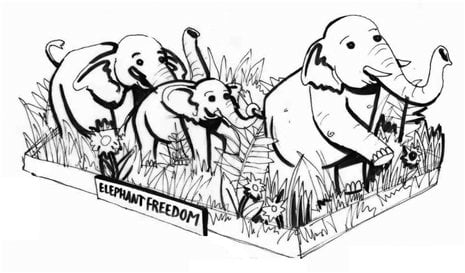 Please ask the Glendale City Council to support Mayor Friedman's kind position. 
Written by Jennifer O'Connor
Related Posts
Respond
Comments
If your comment doesn't appear right away, please be patient as it may take some time to publish or may require moderation.
By submitting this form, you are agreeing to our collection, storage, use, and disclosure of your personal info in accordance with our privacy policy as well as to receiving e-mails from us.