A Fauxbulous Kardashian Wedding Gift
Written by
August 17, 2011
|
The wedding of Kim Kardashian and Kris Humphries is sure to be a lavish affair, so PETA sent the bride and groom an equally lavish gift: a luxurious faux fur throw donated by Donna Salyers' Fabulous-Furs.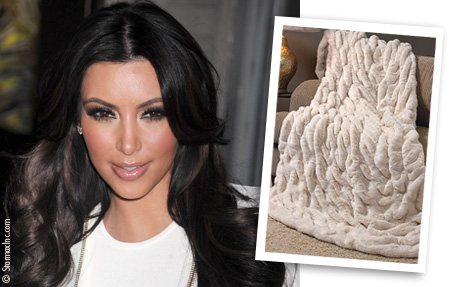 It's no secret that Kim has a penchant for wearing fur, but we're hoping that this elegant velvet-lined throw—the same style that is used at premier resorts—will help convince the future Ms. Humphries to say "I do!" to being kind to animals. If Kim follows in her little sis Khloe's  footsteps and dons Donna's luxurious faux furs, she'll join other Fabulous-Furs customers like Kate Moss, Brooklyn Decker, Ice-T and Coco, and Aretha Franklin in saving animals from being bludgeoned, anally and vaginally electrocuted, and skinned alive. Here's hoping that Kim will ditch fur for good and always choose compassion over cruelty.
For more fabulous fakes, see PETA's Cruelty-Free Clothing Guide.

Written by Michelle Sherrow
Respond