Drivers, Rev Your Engines
Written by June 13, 2011
|
A Formula 1 race became "Formula Wow" when PETA's smokin' hot pit crew showed racing enthusiasts in Montréal, Québec, that nothing makes a body's engine stall like animal products.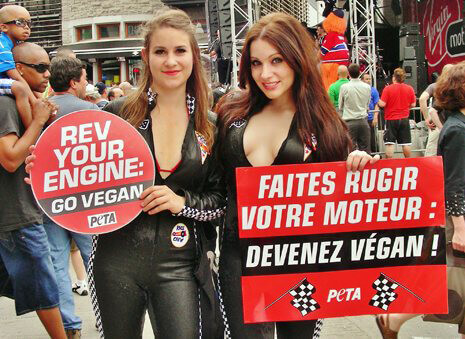 The enthusiastic crowd outside the race fueled up on vegan barbecue Tofurky sausages and took home "Think Before You Eat" leaflets. When they read about how consumption of animal products is linked with poor health and weight gain, they'll race to adopt a winning vegan diet.

Written by Michelle Sherrow
Related Posts
Respond
Comments
If your comment doesn't appear right away, please be patient as it may take some time to publish or may require moderation.
By submitting this form, you are agreeing to our collection, storage, use, and disclosure of your personal info in accordance with our privacy policy as well as to receiving e-mails from us.