A Chocolate Bunny Nobody Had to Die For
Written by
April 15, 2011
|
For all of us who get googly-eyed just thinking about a basket full of chocolate that's all ours, Easter is a great time of year. And when we fill our baskets with delicious vegan chocolates, we get all that melt-in-our-mouths goodness without any animal having to die for it. (Chocolate bunnies, of course, are fair game.)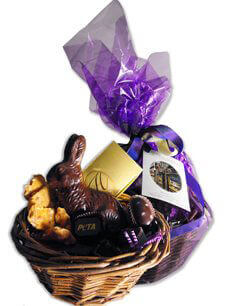 Why should you leave the milk out of your chocolate bunny? Cows used in the dairy industry are often forced to produce 10 times more milk than they would naturally. Their babies are generally taken away from them shortly after birth, and the males are raised for veal. Worn out cows are sent to slaughter.
With the bounty of yummy vegan chocolates available from companies like Rose City Chocolatier, Allison's Gourmet Vegan Bakery, and Chocolate Inspirations, there's no need to steal milk from a calf. Harbor Candy Shop has created a delicious assortment just for PETA, available in a pre-assembled Easter basket.
So we can go ahead and get our hands messy devouring all our treats (mine don't last very long), and still have our consciences clear. Happy Eater, I mean Easter!
Written by Michelle Sherrow
Respond