Chickens Aren't Gay at Chick-fil-A
Written by August 2, 2012
|
Chick-fil-A, the house of the homophobic waffle fries, wants homosexual people just to accept not having equal rights and chickens just to accept having their throats slashed and being scalded to death. 
But a flock of protesters crashed Chick-fil-A's Appreciation Day to show that they don't appreciate the fast-food chain's efforts to keep people in the closet and chickens in the factory farm shed: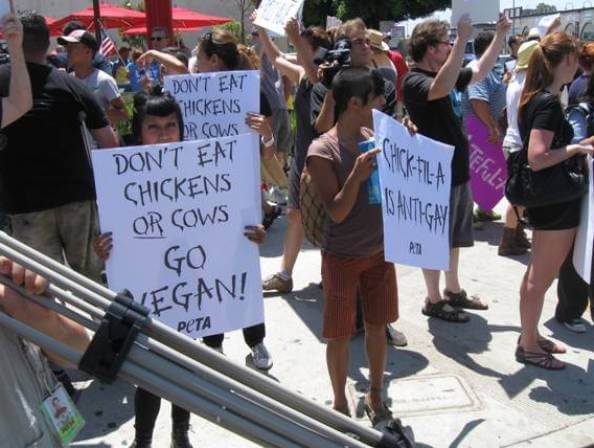 The protesters made their voices heard loud and clear: All living beings deserve respect. 
Related Posts
Respond
Comments
If your comment doesn't appear right away, please be patient as it may take some time to publish or may require moderation.
By submitting this form, you are agreeing to our collection, storage, use, and disclosure of your personal info in accordance with our privacy policy as well as to receiving e-mails from us.