'Cave People' Rate DK's Furs: 'Ugh!'
Written by
November 8, 2010
|
Bearing Fashion Forward leaflets and clubs (and baring quite of bit of leg), PETA's "cave women" made sure that shoppers and tourists at San Francisco's bustling Union Square knew that Donna Karan (aka the "Bunny Butcher") has prehistoric attitudes about killing animals and wearing their fur.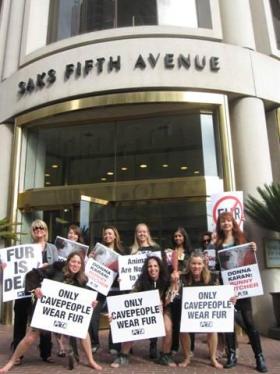 With so many innovative, animal-free fabrics to keep wearers warm and dry, it's never been easier for fashionistas to Express their style without making bunnies scream. Encourage your Facebook friends to speak up for bunnies too.
Written by Karin Bennett
Related Posts
Respond
Comments
If your comment doesn't appear right away, please be patient as it may take some time to publish or may require moderation.
By submitting this form, you are agreeing to our collection, storage, use, and disclosure of your personal info in accordance with our privacy policy as well as to receiving e-mails from us.