Carrot Gives New Meaning to 'Veg Out'
Written by
March 14, 2012
|
Chris P. Carrot got to reminisce about being a baby carrot when he visited with children at Memphis' Peabody Park yesterday.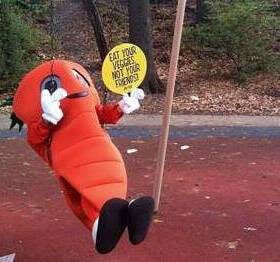 The root enjoyed getting back to his roots and gave kids stickers and booklets encouraging them to eat their veggies, not their friends. A recent University of Minnesota study showed that when kids were shown pictures of vegetables, they ate more of them.  
Helping kids eat healthy veggies in lieu of fatty meat? Piece of (carrot) cake.
Related Posts
Respond
Comments
If your comment doesn't appear right away, please be patient as it may take some time to publish or may require moderation.
By submitting this form, you are agreeing to our collection, storage, use, and disclosure of your personal info in accordance with our privacy policy as well as to receiving e-mails from us.