Carrie Underwood Fires Back at Rude TN Lawmaker
Written by
April 26, 2013
|
Carrie Underwood isn't hiding her disgust about Tennessee's "ag-gag" bill—and and rightfully so. She strongly disagrees with making cruelty investigations on farms illegal and said she may just show up on the governor's doorstep if he signs the bill into law. But state Rep. Andy Holt took it upon himself to insult Carrie for voicing her opinion, saying, "I would say that if Carrie Underwood will stick to singing, I'll stick to lawmaking." That jab didn't sit well with the always-informed Underwood, who tweeted, "I should stick to singing? Wow…sorry, I'm just a tax paying citizen concerned for the safety of my family." 
She then tweeted to Ellen DeGeneres, thanking her for discussing "ag-gag" bills on Ellen. And Wynonna Judd, Miley Cyrus, Tish Cyrus, and Tony Kanal all hopped on Twitter, too, to show their support for Carrie and to bash "ag-gag" bills.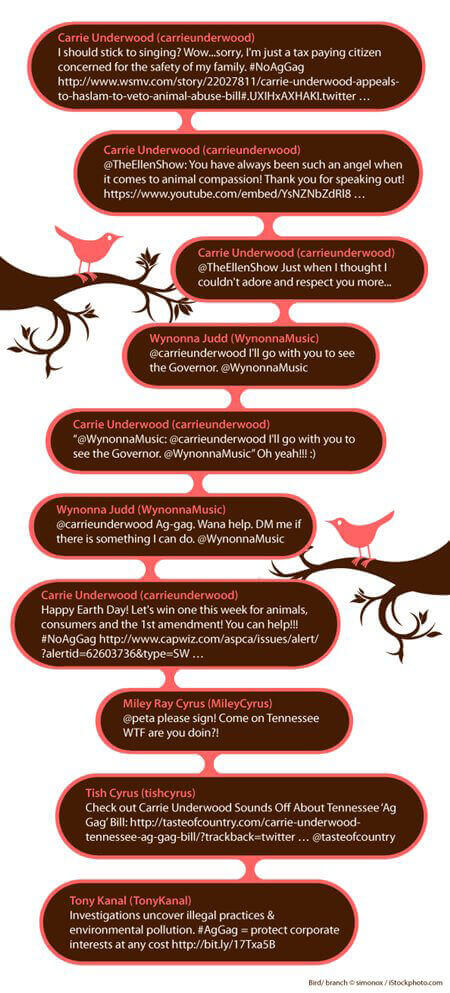 Beth Stern, host of the new Nat Geo Wild show Spoiled Rotten Pets and wife of Howard Stern, is piping up, too—about Kim Kardashian's penchant for fur. "It makes me really sad," she said. "I know her sister was a poster child for PETA. I don't watch the Kardashians; I'm very aware of them, but I do know that the sister was involved, so of course that entire family would know what goes on, what happens to animals when they're wearing a fur coat."
To keep up with what all your favorite stars are doing for animals, follow @PETA on Twitter.
Respond