Update: Caesars Lets Animal Abuser Conduct Business as Usual
Written by March 21, 2014
|
Update: Problems are mounting for big-cat exhibitor Dirk Arthur. A U.S. Department of Agriculture inspection report that was just made public shows that Arthur got a fresh round of citations for violations of the Animal Welfare Act. According to the report, he continued to house the cats in cages that deny them adequate space, failed to provide them with legally required access to an exercise area, and didn't erect adequate safety barriers to protect the animals and the public. Despite these ongoing problems, Arthur is still scheduled to start his three-month stint at Caesars-owned Harrah's Renothis month. While he continues to abuse big cats, animal advocates should continue to insist that Caesars Entertainment Group and its casinos cut ties with him. PETA and our Reno-area supporters plan to protest Arthur's show at Harrah's if the company isn't willing to do the right thing.
The following was originally posted on March 6, 2014:
From declawing tigers to restricting animals' movement, one of the acts hired by Caesars Entertainment Group has a history of violating the Animal Welfare Act—including numerous citations for confining tigers to metal cages outside with no protection from the sun on two days when temperatures reached up to 127 degrees. So PETA is letting Caesars know that the show must not go on.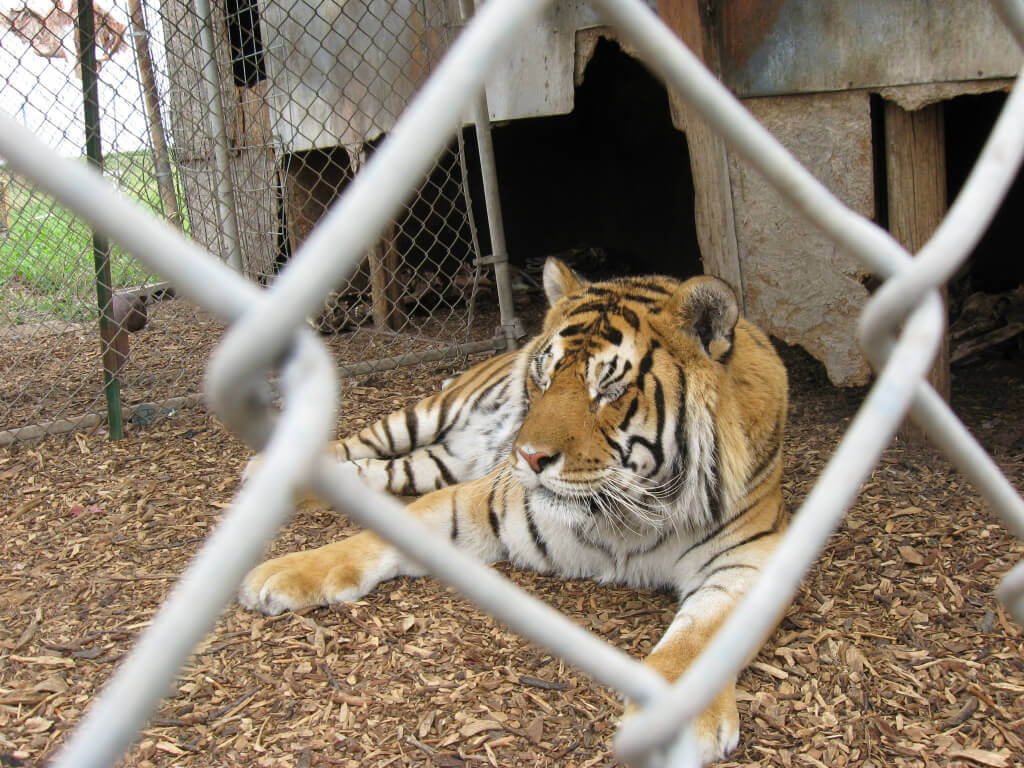 Dirk Arthur presents the "Wild Magic" show at the Caesars-owned Harrah's in Laughlin and Reno, Nevada.
Most recently, during an inspection at Harrah's Laughlin, the U.S. Department of Agriculture (USDA) cited him for forcing two tigers and a lion to undergo painful declawing procedures in violation of a long-standing USDA policy, confining a snow leopard to a rusty and unsound enclosure, subjecting a bobcat to conditions that presented "a clear hazard" to the animal's safety, failing to use adequate barriers to protect the cats and the public, and denying the animals the opportunity to exercise or even adequate space to make normal postural adjustments.
In addition to Arthur's history of depriving cats of basic necessities, he also has a history of transferring exotic cats to and from other unscrupulous exhibitors.
Cruelty to animals is not entertainment.
Caesars should join the growing list of companies—including Simon Property Group, Inc., the largest real estate holding company in the U.S.—that have made a commitment to hiring entertainment acts that do not exploit exotic and endangered animals.
Please ask Caesars and Harrah's management to end the partnership with Arthur and urge Caesars to commit to hiring only entertainment acts that do not exploit animals.
Related Posts
Respond
Comments
If your comment doesn't appear right away, please be patient as it may take some time to publish or may require moderation.
By submitting this form, you are agreeing to our collection, storage, use, and disclosure of your personal info in accordance with our privacy policy as well as to receiving e-mails from us.