Bullocks and Horses Face Marathon of Misery—Help Ease Their Pain
Written by
January 22, 2013
|
Next month, thousands of bullocks, ponies, and horses in India will soon be forced to walk and run as far as 150 miles, hauling carts full of families and goods to the annual Chinchali Fair. Along the way, some of them will collapse from exhaustion, injuries, dehydration, and despair. Others will try to soldier on, enduring injuries from the heavy yoke, increasing lameness, and the sting of the whip.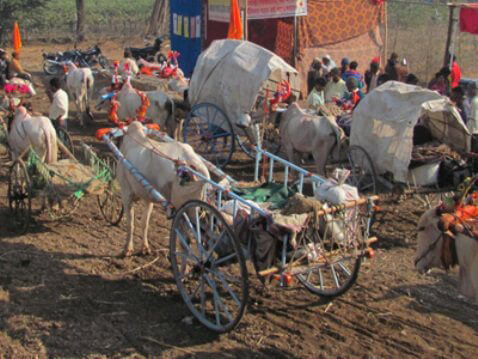 Animal Rahat, an organization of veterinarians and relief workers funded by PETA, plans to set up stations along the route to and from the four-day fair to bring some measure of relief to animals in distress—and the group needs your help. 
The attention that each animal will receive from Animal Rahat may prove crucial. The veterinarians will bandage wounds, provide water and food, adjust or replace harnesses and straps that are causing pain, demand rest for those who are faltering, and give medical treatment to animals who would otherwise lack the most basic care.
What You Can Do
Have you ever had someone offer help at a moment when you needed it most? Making a gift to Animal Rahat is the perfect way to pay it forward—and with the fair only weeks away, now's the time!
Respond