It's a Boy for Anne Hathaway and Adam Shulman—and Other Exciting Celeb News
Written by June 20, 2014
|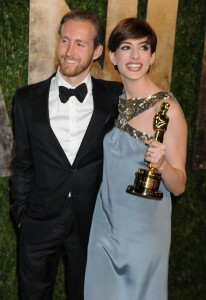 © StarMaxInc.com
Baby makes four for Anne Hathaway and Adam Shulman: The newlyweds adopted a new mutt, a terrier mix named Edward. PETA helped Edward and the couple's first dog, Esmeralda, bond over some congratulatory toys and treats.
In other celebrity news:
To keep up with what all your favorite stars are doing for animals, make like these celebs and follow @PETA on Twitter:
I love working with @peta2 and they have a new iPhone app to help animals. Download it and get free stuff: http://t.co/cfIJuqdOXm

— Jona Weinhofen (@jonaweinhofen) June 16, 2014
ALBUQUERQUE, NM // WARHEADS STAGE 12:45 MERCH TABLE 2:00 PETA TENT 3:00 BANDHAPPY 4:00 http://t.co/iT9cmbno0B

— the ready set (@thereadyset) June 17, 2014
Related Posts
Respond
Comments
If your comment doesn't appear right away, please be patient as it may take some time to publish or may require moderation.
By submitting this form, you are agreeing to our collection, storage, use, and disclosure of your personal info in accordance with our privacy policy as well as to receiving e-mails from us.