We'd Rather Go Naked Than Wear Fur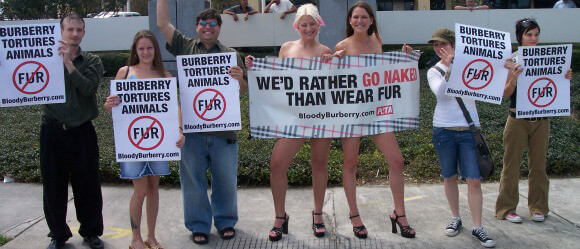 PETA launched its "Rather Go Naked Than Wear Fur" campaign with the help of the popular rock band The Go-Go's in 1991 to raise awareness about the millions of animals who are trapped, drowned, beaten, and electrocuted for their fur. Since then, thousands of compassionate people have bared their bodies for a variety of PETA campaigns to help animals in need.
Now you can speak up for animals by participating in PETA's "Rather Go Naked" campaign in your area. Just fill out the form below, and upload your photo for a chance to take part and help save animals!
Animals always need more lovely ladies and gorgeous guys who can draw attention to PETA's campaigns by dressing up as "Lettuce Ladies" and "Broccoli Boys" (in lettuce bikinis or dresses or banana-boy briefs!) and handing out vegan food at public events as well as by participating in our iconic "Rather Go Naked Than Wear Fur" protests and by taking part in the many other eyebrow- and consciousness-raising events that we coordinate to promote animal rights!
Ready to get started? Join the likes of Olivia Munn, Eva Mendes, Dave Navarro, David Cross, and countless others by filling out the form below. We'll also add you to our Action Team so that we can contact you the next time that we need someone in your area to bare some skin to help save animals' skins or any time that animals need your help.
Please note: You must be at least 18 years or older to participate in one of our naked demos. Please do not submit this form if you're underage. 
Please also submit this form to volunteer yourself only. Please do not nominate others. If you think someone you know might be interested, please let them know about our campaigns.
All fields in bold are mandatory.
By submitting this form, you are agreeing to our collection, storage, use, and disclosure of your personal info in accordance with our privacy policy as well as to receiving e-mails from us.