Publicize Your Fur-Free Friday Event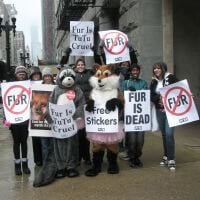 Need tips for spreading the word about your Fur-Free Friday event? No problem! Here are three simple ways to ensure success. Easy as one, two, three!
Create a Facebook Event
Create a Facebook event to promote your Fur-Free Friday event, and recruit your friends to join you.
Put Up Fliers
Spread the word on the streets by downloading this printable flier, filling out the details of your event, and putting it up in cafés, college campuses, shopping malls, bulletin boards at work, book stores—pretty much anywhere you can! Get creative!
Write a Letter
Write a letter to your local newspaper to get your event published in the event listings.
 
If you have any questions or would like help brainstorming ideas, shoot us an e-mail at ActionTeam@peta.org. We'll do everything that we can to help you make a difference.