Making Your Own Leaflets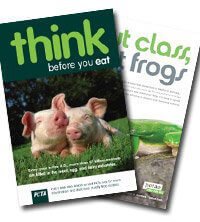 Using PETA's leaflets is the best and easiest way to go, but if you have to make your own leaflets for a local issue or for any other reason, keep the following tips in mind:
Your leaflet needs to tell readers what, where, when, why, and who, and it must let them know specifically what they can do to help. Include a telephone number and a Web site where they can learn more.
People won't read a long, complicated leaflet, so keep your sentences clear and concise. Use descriptive headings, subheadings, and quotations to get your main points across, and put three or four headings on each page so that if people only read the headlines, they'll still get the message. Keep your leaflet simple, to the point, and easy to understand.
Designing to Reach People
If you're making a leaflet to publicize an event, think of it as a small poster. Use a clear, issue-appropriate photograph or illustration to capture people's attention.
The following types of leaflets are the most frequently used:
Event or "call" leaflets are 8.5-inch-by-11-inch sheets, printed on one side. Essentially, they're small posters that announce a meeting or demonstration.
Factsheets are 8.5-inch-by-11-inch sheets, printed on one or two sides. Photographs are not necessary. Factsheets aren't meant to be handed out on the street; they're strictly for people who request detailed information.
Leaflets are typically 8.5-inch-by-11-inch sheets, printed on both sides and folded in half or in thirds. Be sure to use photographs.
Street leaflets are half- or third-page sheets, often printed on only one side. They should be very short and easy to read because they are designed to be handed out on the street.
Some of the most effective leaflets that we've used are 8.5-inch-by-3.625-inch sheets (that's a normal sheet of office paper cut into thirds) printed on one side only, with a boldfaced title, a good photograph or illustration, and brief, easy-to-read text. Providing a Web address where people can get additional information on the topic as well as contact information for your group is recommended.
The following tips will also help you create your own effective leaflets:
Keep a "design file." The file should include well-designed, easy-to-read leaflets and striking advertisements. Study them for ideas on layout, headlines, lead sentences, or use of photographs, or you can view PDF versions of PETA's leaflets online at PETA Literature.
Start collecting a file of photographs. You'll want to be sure that the images you select are of a high enough resolution to reproduce well, typically at least 300 dpi at the size that you plan to output the image. Once you've chosen your image, scan it or get it scanned. Most college campuses have scanners in their computer labs, or you can pay to have photos scanned at quick-copy shops such as FedEx Office.
Choose a software program. Simple designs can easily be made in programs such as Microsoft Word. More sophisticated designs usually require some knowledge of and experience in page-layout programs such as QuarkXPress, Adobe PageMaker, or Adobe InDesign. Many printers and copy shops (such as FedEx Office) can design leaflets for you for a fee if you don't have access to a computer or appropriate software.
Blank space is desirable. You don't need to fill every square inch of the leaflet. Not only does white space, such as wide margins or space around the title, make the leaflet more readable, it also often improves the design and makes it more inviting.
Keep characters in check. Titles should be designed in a bold, easy-to-read display font. Use a simple font for your text as well. Serif fonts (fonts with small decorative strokes added to the end of the letters' main strokes) improve readability by leading the eye along the line of type. Some examples of common serif fonts are Times New Roman, Garamond, and Palatino. Limit yourself to two fonts per leaflet.
Always give yourself plenty of time. This will allow you to proofread everything before getting it printed, and it's a good idea to ask a friend to proofread it as well. Typos can distract people from the message and make you look unprofessional. Use a computer, and if you know somebody who is good with graphics, enlist his or her help.
Use quick-copy shops for printing. They can print straight from a digital file or a hard copy master and can take care of any cutting or folding for you. Always be sure to review a proof before printing an entire job. When reviewing the proof, look for any typos that might have been missed, confirm that your images are printing correctly, and make sure that no text has reflowed or "fallen off" the page. To add a little color but keep costs down, consider printing your black-and-white leaflet on colored paper.
PETA has leaflets on a variety of subjects available to activists for a small donation. The text in the leaflets is not copyrighted, so your group can use information from them instead of reinventing the wheel. Contact PETA's Literature Department or visit PETA Literature to order or download leaflets.
In This Section