Holding a Demonstration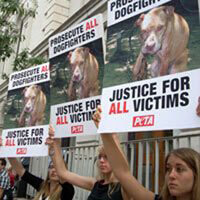 Holding a demonstration is a fun, effective, and easy way to show people how animals are abused on factory farms, on fur farms, in laboratories, and in circuses. It's one of the easiest ways to reach a lot of people, and if your event is covered by the media, you have the potential to reach thousands more.
A demonstration can be as simple as one person with a sign, a stack of leaflets, and an hour to spare, or it can be more elaborate. For example, one popular pro-vegetarian demonstration involves multiple people dressed as zombies with signs that say, "I'd Rather Be Dead Than Eat Meat." You'd be surprised at how far you can get with a friendly smile and the simple question, "Would you like to learn about how animals are raised on factory farms?"
To plan a demonstration, you need to answer the following questions:
What are you asking your opponent or target to do?
What do you want the public to do or learn?
Will you need a permit from the police or city hall?
What types of visual aids (posters, banners, or costumes) will you use?
What type of leaflets will you hand out?
You'll have a better chance of getting media coverage if you conduct the event during normal business hours on a weekday. On the weekend, you may get a better turnout of demonstrators, but news coverage is less predictable. Although a demonstration is almost always worthwhile, you won't be in the public eye as much without media coverage.
Don't overlook holidays; they're generally light news days, so a nice public-interest story might be appealing to the media. Pick your time carefully so that your demonstration doesn't conflict with a major sporting, political, or community event, unless you're responding to an emergency situation that gives you little choice.
Allow a few weeks to secure any permits that you might need, but don't hesitate to organize a demonstration on a day's notice if you have to. You usually don't need a permit to hold a demonstration on a public sidewalk as long as you don't block pedestrian traffic or go into the street. Permits are usually needed for street marches or when a stationary object, such as a table, is required.
Make it visual. Use more than just demonstrators with signs. Consider eye-catching costumes, cages, or street theater.
Order leaflets from PETACatalog.com or prepare your own leaflets that explain the issue. List your demands and explain what the public can do to help. Make some posters to display or order some from PETA, and prepare a short handout explaining your group's background.
You can either order signs from PETA or hold a sign-making party before the event to inspire the group and ensure that you're all on the right track. Use pictures and slogans that illustrate the issue in simple and dramatic ways. Stay away from offensive language, which may turn some people off. Use stencils (but fill in the gaps) so that the lettering looks neat, or create posters on your computer, print them, and take them to a FedEx Office store or other copy center to have them blown up and printed at poster size.
Decide who will be the spokesperson ahead of time, but make sure that each person has a short statement prepared in case he or she is asked a question by the media or a bystander. Keep in mind that the media might photograph you. Ask your group not to wear sunglasses, and to dress neatly and conservatively (unless you decide to wear costumes). If you wear a costume, you should not be the spokesperson—the audience will want to hear from an authority figure, not someone dressed like a pig.
Prepare short, easy-to-understand chants ahead of time, and when appropriate (not during silent vigils), keep the chants going throughout the demonstration. Chants make more people take notice of what is going on, in addition to making good background noise for the media. Remind people not to smile or laugh if they're protesting a serious abuse. Discourage people from talking to one another or on cell phones and from smoking or eating during the demonstration. And never argue with or make derogatory comments to bystanders.
Notify the media—radio, TV, newspapers, and wire services—with a telephone call or news release at least one day before the demonstration. Contact PETA's Action Team for help! Arrive at least a half-hour before starting time. Visit the site beforehand so that you will know how to set things up on the day of the event. Keep your group together, and remind them (quietly) to hold their signs so that the words can be clearly seen and photographed.
Write down the names and telephone numbers of the people who attend the demonstration so that you can contact them for future actions. If your demonstration was covered by the newspaper, send a letter to the editor to support, clarify, or further explain the issue and what people can do—and ask members of your group to do the same.
For more tips, see PETA's Guide for Protest Organizers.