Eric Deardorff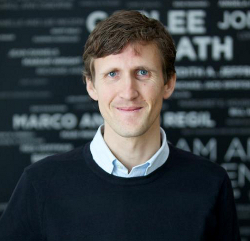 Name: Eric Deardorff
Position: Senior outreach coordinator
E-Mail: [email protected]
Facebook: Facebook.com/Eric.Deardorff
Where do you work? PETA's L.A. office, the Bob Barker Building
What's the best part about your job? Working with other passionate people to save animals.
What's the hardest part about your job? The hardest part of my job is having only so many hours in the day and wanting to organize more demonstrations than are possible.
Best memory at PETA: There are so many great memories, but the best ones involve tabling all day while showing regular people videos of how animals are treated and seeing them change on the spot. You can see them change right before your eyes!
What do you like to do when you're not at the office? Ride bikes and check out cool cars, like Ferraris!
How You Can Help Animals
Join the Action Team
Sign Up for PETA Mobile Alerts
Help Animals Online