Daniel Carron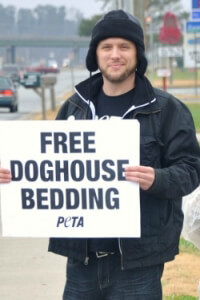 Name: Daniel Carron
Position: Senior Outreach Coordinator
E-Mail: [email protected]
Facebook: Facebook.com/dan.petacarron

Where do you work? I work at the Sam Simon Center, PETA's headquarters in Norfolk, Virginia.
Do you have companion animals? I share my home with rescued cats and bunnies. The bunny crew consists of Belle, the princess and only female; Sebastian, aka "3.6 pounds of fury"; and Bugs Bunny, who was adopted from PETA. Bugs was covered with ticks and dirt, and now he is a healthy rabbit advocate on Instagram with hundreds of followers (@theadventuresofbugsy). Master Shredder heads up the feline squad, with his sidekick, Master Tatsu, and the sweetest being on the planet, Captain Hook.
What's the best part about your job? I am an activist first and foremost, so I love working with other activists to make the world a better place for animals. I also take a lot of pride in participating in PETA's volunteer straw-delivery program, which would not be possible without the help of our supporters.
What's the hardest part about your job? Working at the largest animal rights organization in the world really opens your eyes to the amount of suffering that animals are experiencing every day. It can be mentally and emotionally challenging to see so much cruelty, but I am so happy that an organization like this exists to speak up for all beings on this planet, and it is an honor to be a part of it.
Best memory at PETA: Changing my name to CircusesHurtAnimals.com was the most fun and rewarding thing I have ever done in my life. It's a great conversation starter and gives me a unique chance to advocate for animals abused in circuses.
What do you like to do when you're not at the office? I like to listen to gangster rap, watch hockey, and talk about Michigan.