Amanda Slyter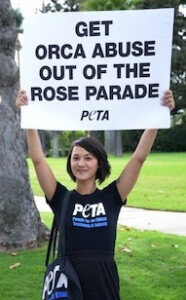 Name: Amanda Slyter
Position: Outreach Coordinator
E-Mail: ASlyter@peta.org
Facebook: Facebook.com/Amanda.Peta.Slyter
Where do you work? The Bob Barker Building in Los Angeles.
Do you have companion animals? I live with two rescued mutts, Otto and Maebelene. I adopted Otto from a shelter in Colorado and found Maebelene along I-24 in Kentucky while driving back from a show in Nashville. They have radically different personalities—Otto is very rambunctious, and Maebelene is mellow, just like yin and yang!
What's the best part about your job? I have had the wonderful opportunity to turn something that used to be a part-time hobby into a full-time career. When I wake up and go to work every morning, I get to take action and help others do the same so that someday soon Tilikum, an orca who has been imprisoned at SeaWorld for 30 years, will be free. For me, it doesn't get much better than that.
What's the hardest part about your job? The hardest part about my job is that it is a lifestyle and not your typical 9 to 5, in which you leave "work" at work. When you go home for the day, you know the pain and suffering that animals endure doesn't stop, and it certainly doesn't leave your thoughts.
Best memory at PETA? One of the best memories I have at PETA so far would have to be the first time I participated in a nearly naked demo. I was part of an anti-leather protest, in which another activist and I lay in a human-size shoebox, wearing fake blood, a sign, and not much else. There are few things more invigorating than stripping down to your skivvies on a crowded public street corner!
What do you like to do when you're not at the office? I spend a lot of my free time with Otto and Maebelene, and if I'm not out walking or hiking with them, you can usually find me eating at one of my favorite vegan restaurants (I love food!), getting my groove on at a show, or cozying up with a book and some hot tea.
How You Can Help Animals
Join the Action Team
Sign Up for PETA Mobile Alerts
Help Animals Online
In This Section